As the recipe i shared at the last topic,we know how to cook one of the dishes that uses tofu as one of the main ingredients.Today,I would like to introduce you one more recipe that really makes you exciting if you love tofu: Sesame Tofu with Broccoli Recipe.This easy sesame tofu with broccoli comes together in 30 minutes and tastes better than take-out. From tofu-lovers to tofu-skeptics, this healthy sesame tofu with broccoli is always a hit! Gluten-free and no refined sugar.
What is Tofu Made Of ?
Tofu is made from dried soybeans that are soaked in water, crushed, and boiled. The mixture is separated into solid pulp (okara) and soy "milk." Salt coagulants, such as calcium and magnesium chlorides and sulfates, are added to the soy milk to separate the curds from the whey.
How Much Protein is in Tofu?
Tofu delivers a whopping 20 grams of protein in one cup and zero cholesterol. Now that's some real high quality healthy clean protein.
Why is tofu not good for you?
Like most plant foods, tofu contains several antinutrients. These compounds are naturally found in plant foods and lower your body's ability to absorb nutrients from food. Tofu contains these two types of antinutrients: Phytates.
Tofu healthier than meat?
People who want plants to taste and feel like meat have more options than ever. Soy-based tofu, the most ubiquitous meat alternative, has almost 10 g of protein per 3-oz. serving, along with fiber and healthy fats. It's also lighter on greenhouse-gas emissions than meat.
Is broccoli a Superfood?
Broccoli has a reputation as a superfood. It is low in calories but contains a wealth of nutrients and antioxidants that support many aspects of human health. Broccoli is a cruciferous vegetable, alongside kale, cauliflower, Brussels sprouts, bok choy, cabbage, collard greens, rutabaga, and turnips.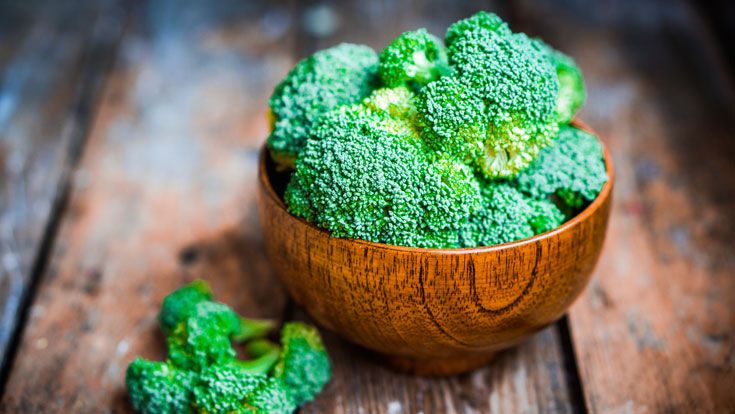 When we know how good are tofu and broccoli to our health,i am pretty sure that you are looking forward to seeing the recipe that use these ingredients.Follow me!!!
What i need to prepare?
Ingredients
15 oz block firm tofu ~organic
Broccoli – fresh broccoli is best here; you'll need about 4 cups of florets.
2 tbsp tapioca
1 lime ~for serving
Sesame Sauce:
3 tbsp tamari sauce
2 tbsp apple cider vinegar (or lime juice)
3 tbsp maple syrup (or brown sugar)
2 cloves grated garlic (or 1 tsp garlic powder)
2 tsp fresh ginger root ~grated
6 tbsp water
1 tbsp tapioca or corn starch
2 tbsp sesame seeds
1 pinch red pepper flakes (optional)
How to Make Sesame Tofu:
Start with firm or extra firm tofu, remove from the package and drain the water.
Press Tofu: place the drained tofu block on a lint free kitchen towel, fold the sides over and cover with another towel. Place a heavy object on top like an enameled cast iron pot or something that is easy to balance. Allow to press for at least 30 minutes or overnight.
Once pressed tear the tofu into bite size pieces and toss with tapioca or corn starch.
Air fry or bake until golden crips around the edges following the instructions in the recipe card.
Add the broccoli to the pan then steam it.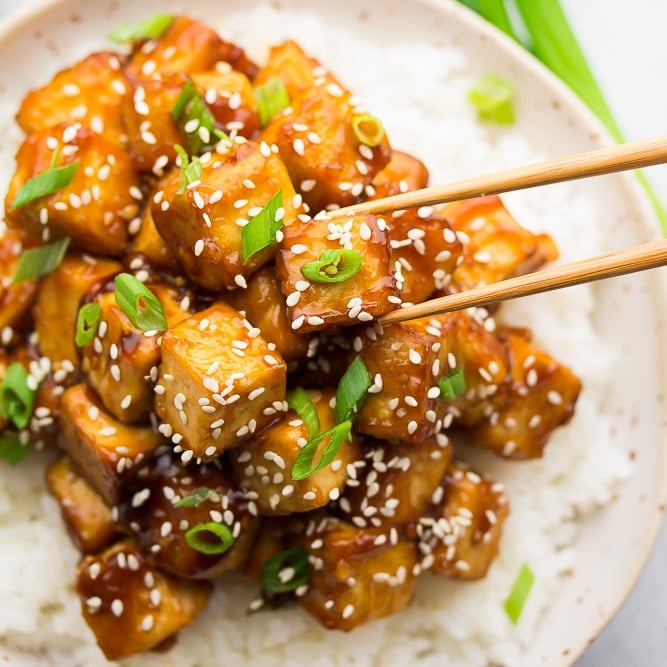 The Sesame Sauce:
Simply whisk together tamari with water, vinegar, garlic, ginger and sesame seeds.  Balance with a drizzle of maple syrup for both taste and stickiness. Thicken as it simmers for a quick minute with tapioca or cornstarch.
Combine the cornstarch slurry with the sauce, and pour over the tofu and broccoli. Cook for about 5 minutes or until the sauce has thickened and the broccoli is crisp-tender. Garnish and serve.
Notes
If you'd like more sauce, increase the water by ¼ cup.
If you can't find extra firm tofu, remove the tofu from the packaging and place it on a chopping board. Place a flat, heavy object on top and let this sit for 15-20 minutes. Or you can get one of these fancy tofu presses which essentially does the same job of removing extra liquid from the tofu.
You can also use other vegetables in the recipe including snow peas, carrots, beans and mushrooms.
This dish can easily be made with readily available stir fry sauces as well. Directly use the packaged stir fry sauce in place of the sauce ingredients mentioned here along with chilli flakes.
Frequently asked questions
But for broccoli,what i can serve tofu with?
In fact you have many ways to enjoy tofu.Here are some tips i reccomend:
Green beans
sauteed spinach or bok choy
Peanut noodlea
stir fried veggies & brown rice
Olive oil mashed potatoes
Pineapple fried rice
Mango avocado noodles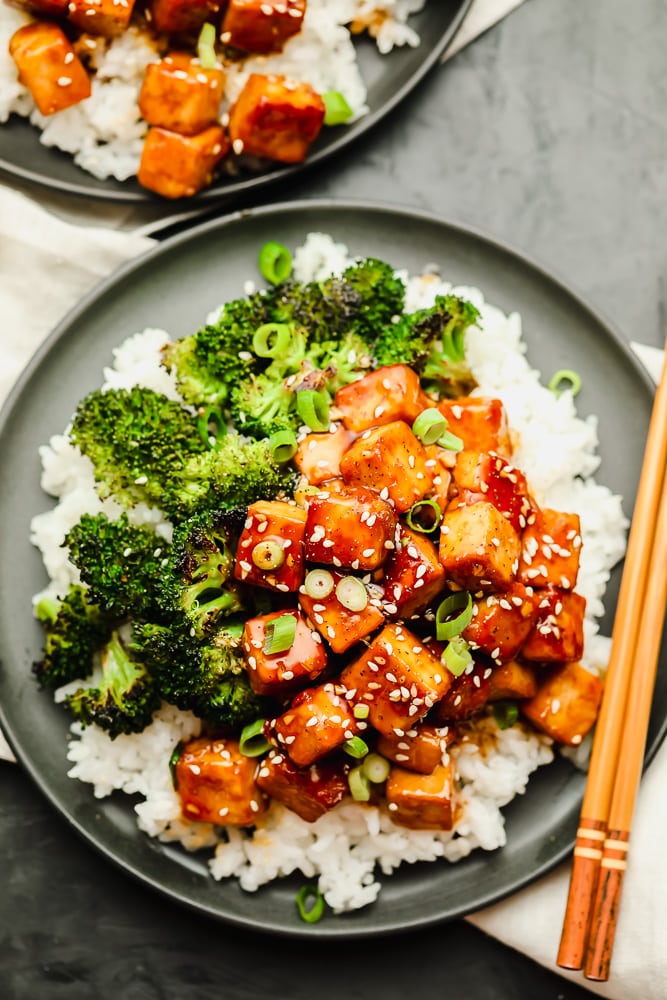 2. How many calories are in tofu and broccoli?
Tofu With Broccoli (1 serving) contains 27g total carbs, 19g net carbs, 14g fat, 27g protein, and 320 calories.
3. Is it OK to eat tofu every meal?
Eating tofu and other soy foods every day is generally considered safe. That said, you may want to moderate your intake if you have: Breast tumors. Because of tofu's weak hormonal effects, some doctors suggest that women with estrogen-sensitive breast tumors limit their soy intake.
4. Can tofu make you fat?
It's high in protein but low in calories – a winning combination when it comes to weight loss or weight maintenance. However, tofu isn't calorie free, and it could contribute to weight gain if you eat more than the recommended serving size or serve it with rich, high-calorie additions.
5.Is tofu vegetarian?
Whether or not tofu is a vegetable, it certainly isn't a food that vegetarians would avoid, because it isn't an animal, and, because it doesn't contain anything in it that even came from an animal (such as milk, dairy, or eggs), it's also safe for vegans to eat.
This recipe is fantastic as written, but, like all grain bowls, it's super flexible. Feel free to change it up to suit your tastes or use what you have on hand.Hope you have good experiences with Sesame Tofu with Broccoli Recipe.