Are you all willing for some comfort food seriously? I hope you will have a perfect recipe! It's becoming cold again around these days and some days i run in the freezing cold that i have driving force me to inspire to make a food that's not take a lot of work but bring us much comfortable. Now I can go home, put it in the microwave oven while I take a shower and enjoy a worthy breakfast and super at ease meal to cozy myself up with.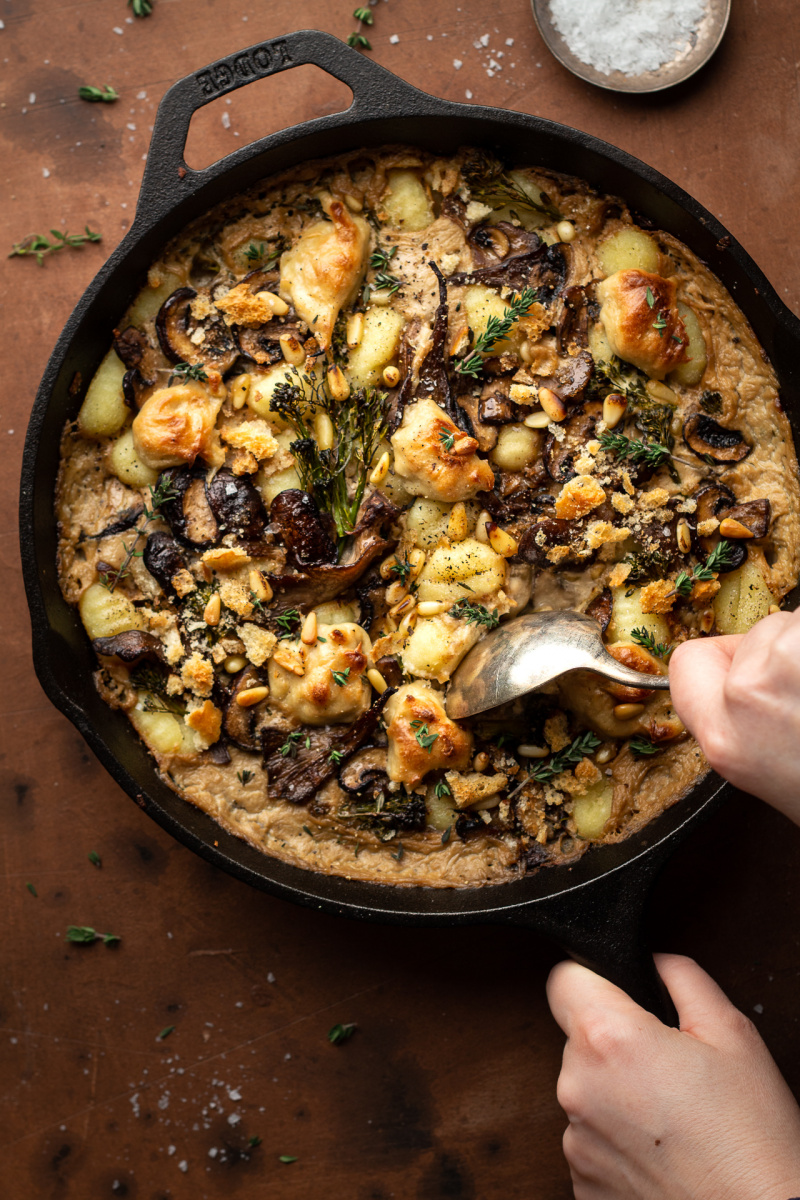 Ordinary, I'd rather probably towards a tomato-based gnocchi dish because of loving this flavors, But Duncan and cooked tomatoes not to harmony sometimes and as a brand new owner of a cast iron wok, i also know that i'm not still like acidic foods, as acid tends to peel off the coating of spice that makes these works so perfect to cook on.
I take a lot of time for that, and finally I am also a joy owner of a cast iron skillet. It's not the cost but also inexpensive famously, but because I attend to the required maintenance. That's some of the first days for I only have this skillet and I do love it. It's particularly great for dishes such as this one, where you can go straight from the stove to the oven without any troubles (Don't be anxious if you don't have one though, a baking dish will be worked here too). I have forgotten not to clean liquid once or twice and oiling after drying is a bit burdensome but I'm in tune with the rhythm and so far, the pros outweigh the cons in my standpoint and I'm not regret it.
So this dish is super simple and quite lazy. I made it with shop-bought gnocchi and the only other vital factor here is the bechamel dressing which takes some mins to do. You can omit the broccoli and mushroom if you are not a fan-fine, even though I love mushrooms. I personally put it in this dish so I suggest that not to. But if you do, don't omit the job stir-fry some shallots and garlic to add in this dish as they help with the aroma and again, it's not a waste of time. I like to cover this dish with some kind of vegan cheese, some pine nuts and coarse breadcrumbs for more rest. It is an impeccable weekend meal to have on the couch, in front of a movie and  a cup of wine to go with it. I hope you'll try and make the most of it as much as we have.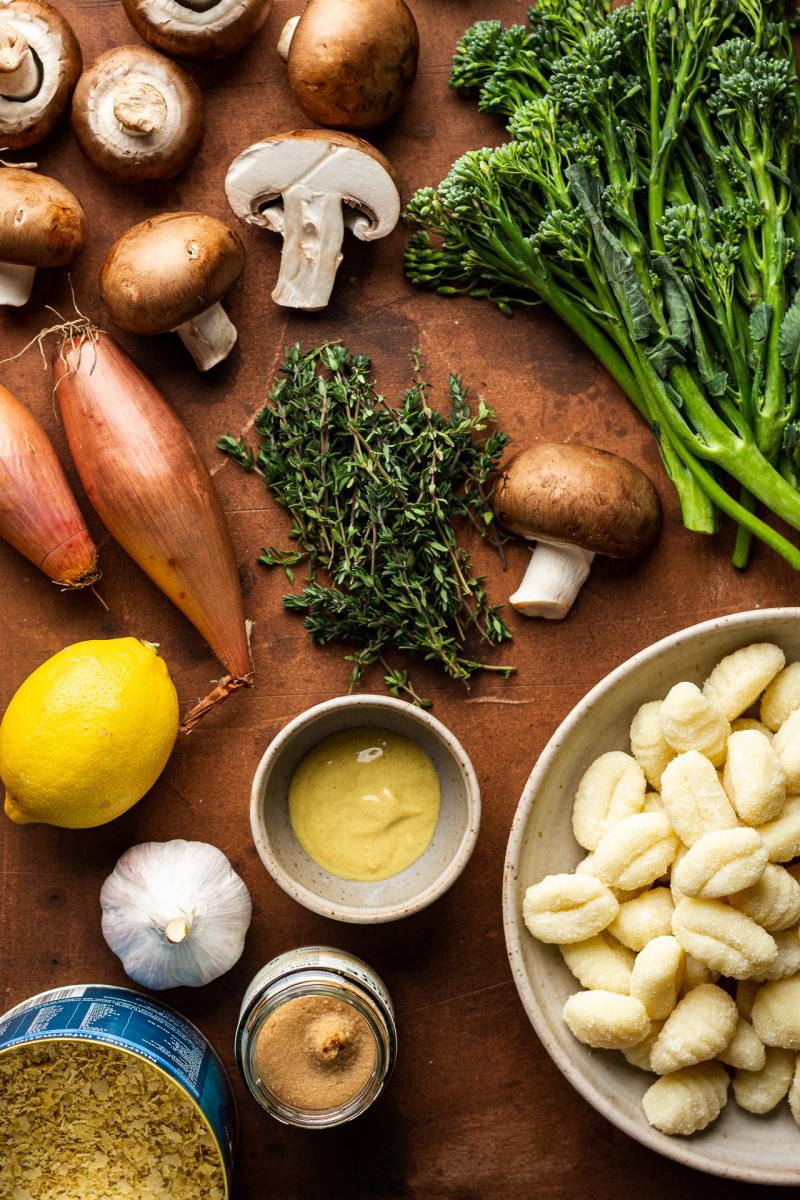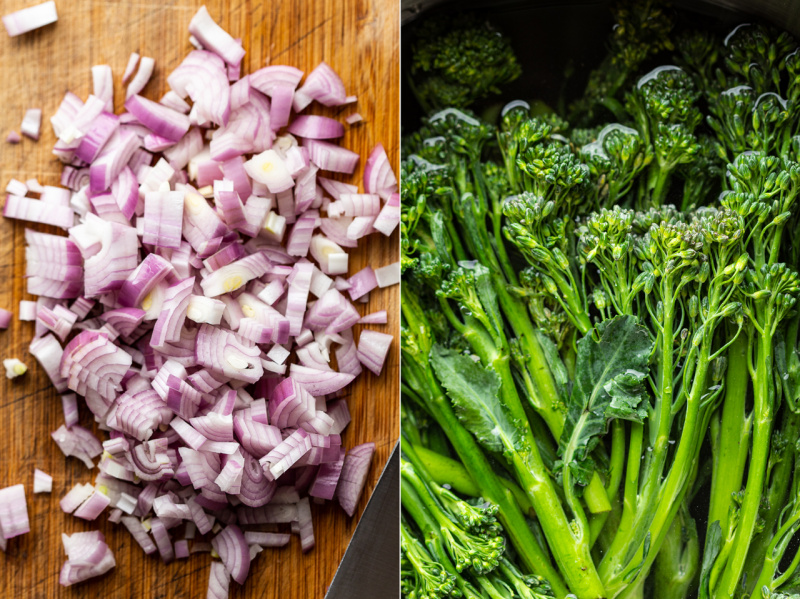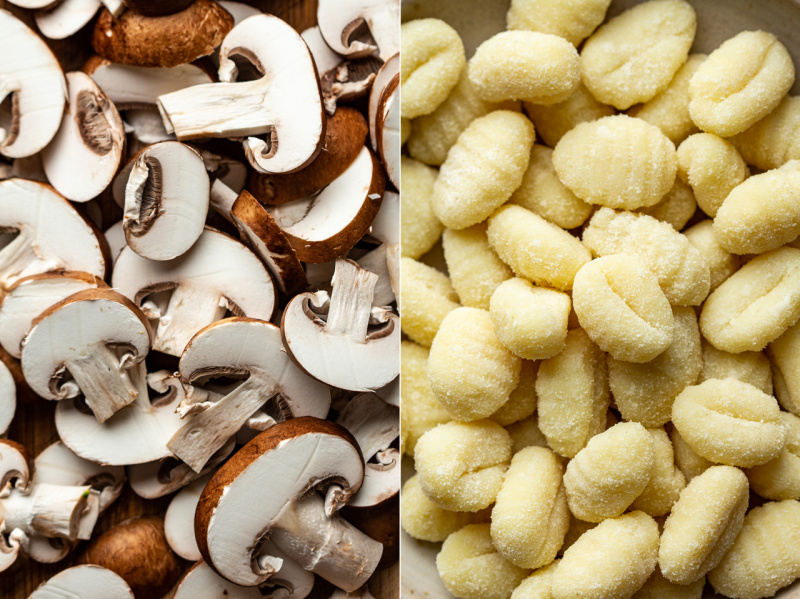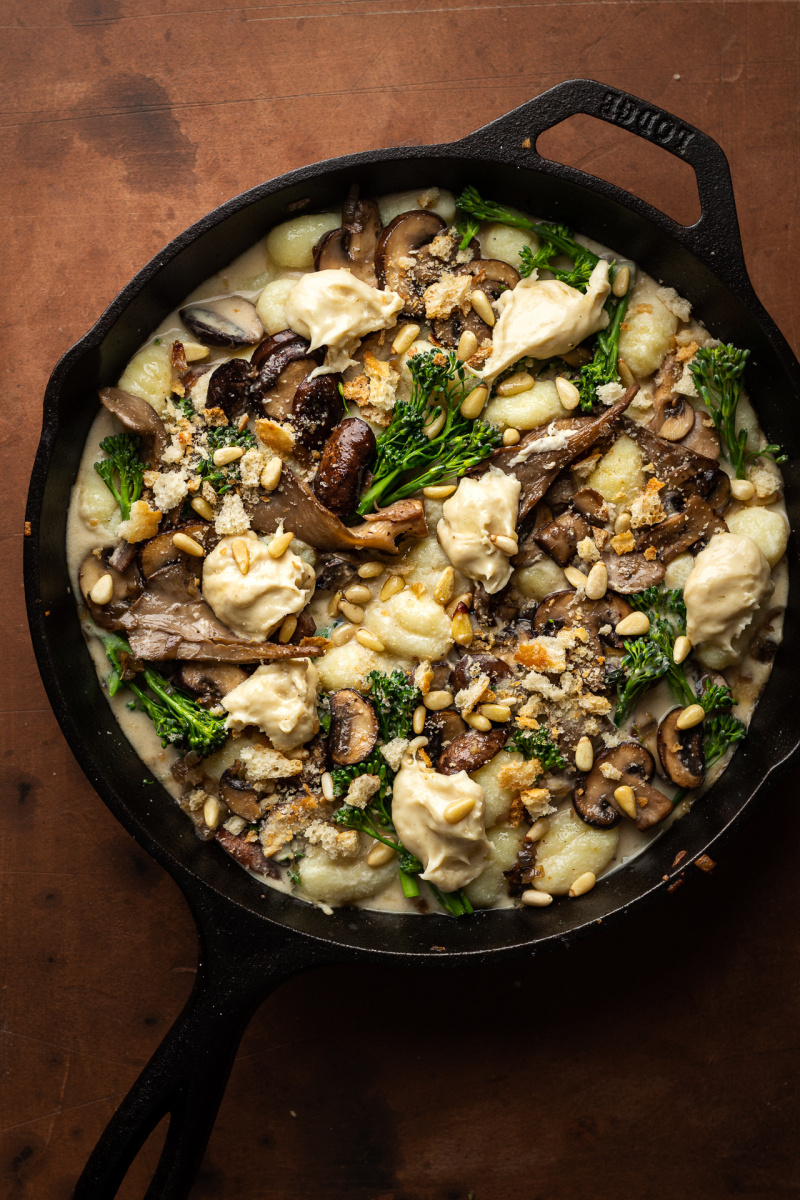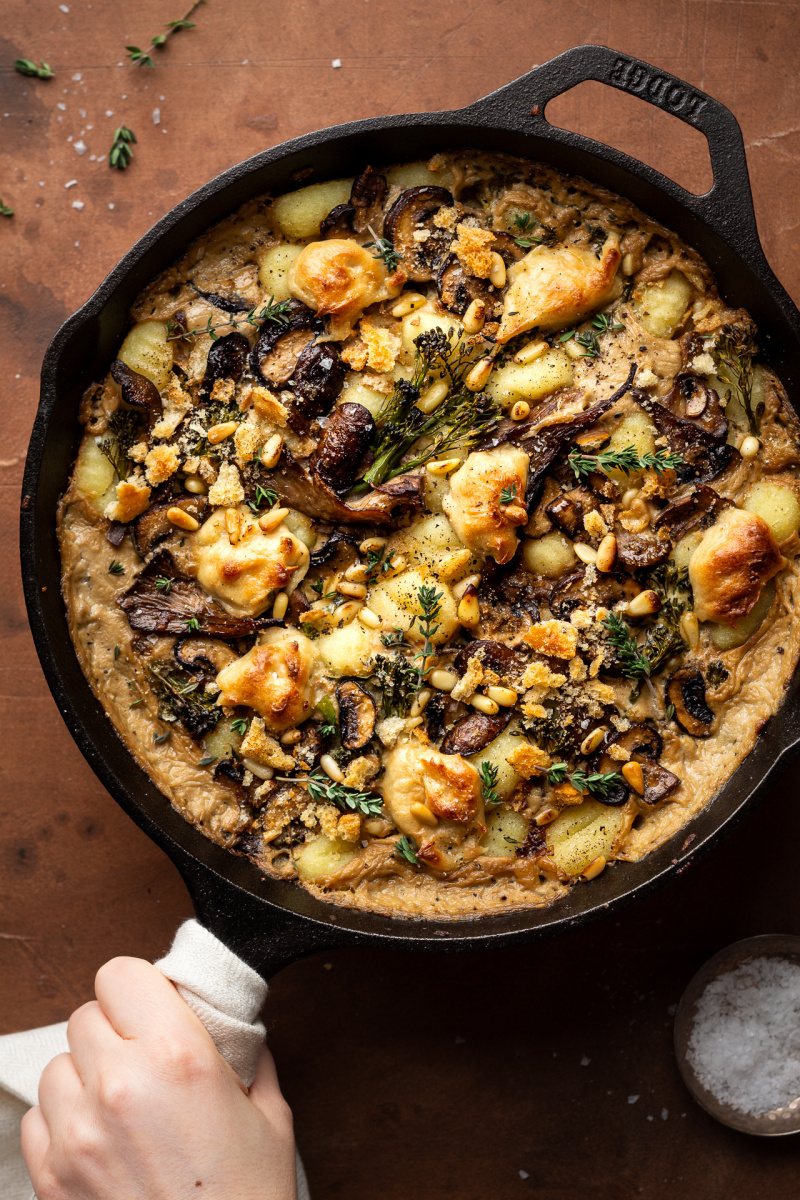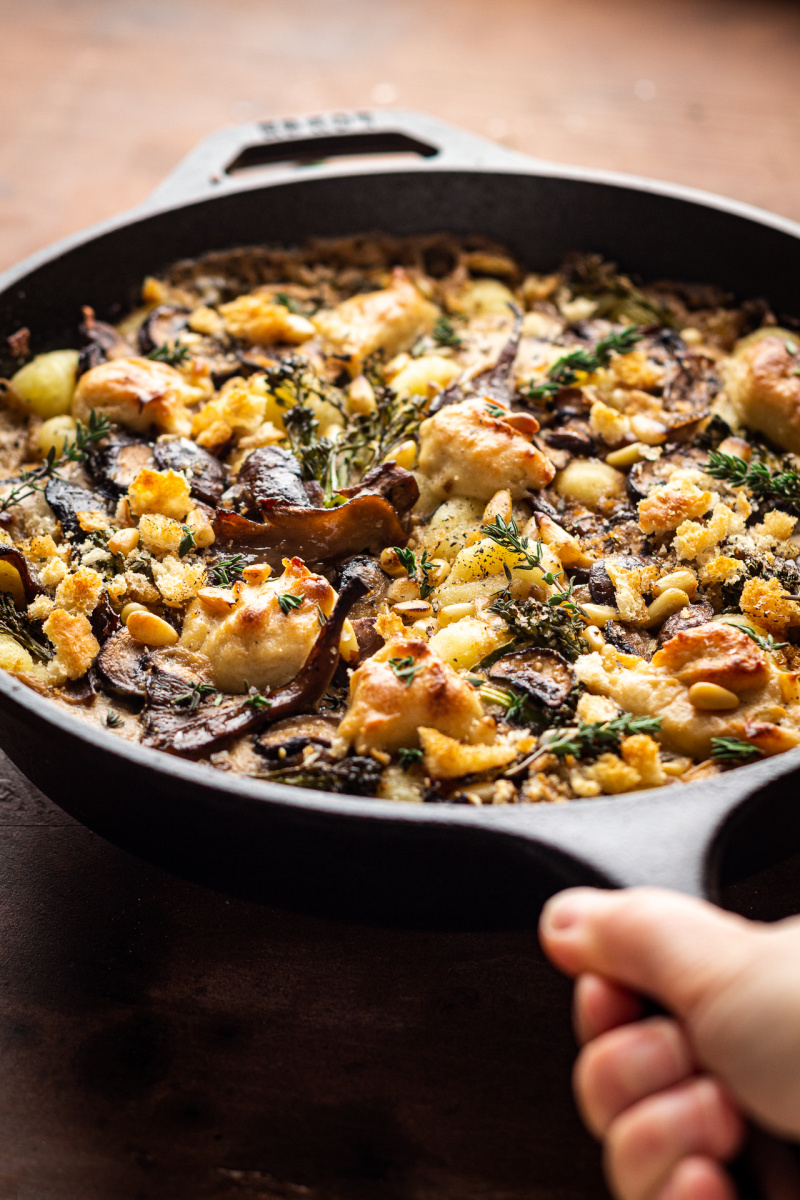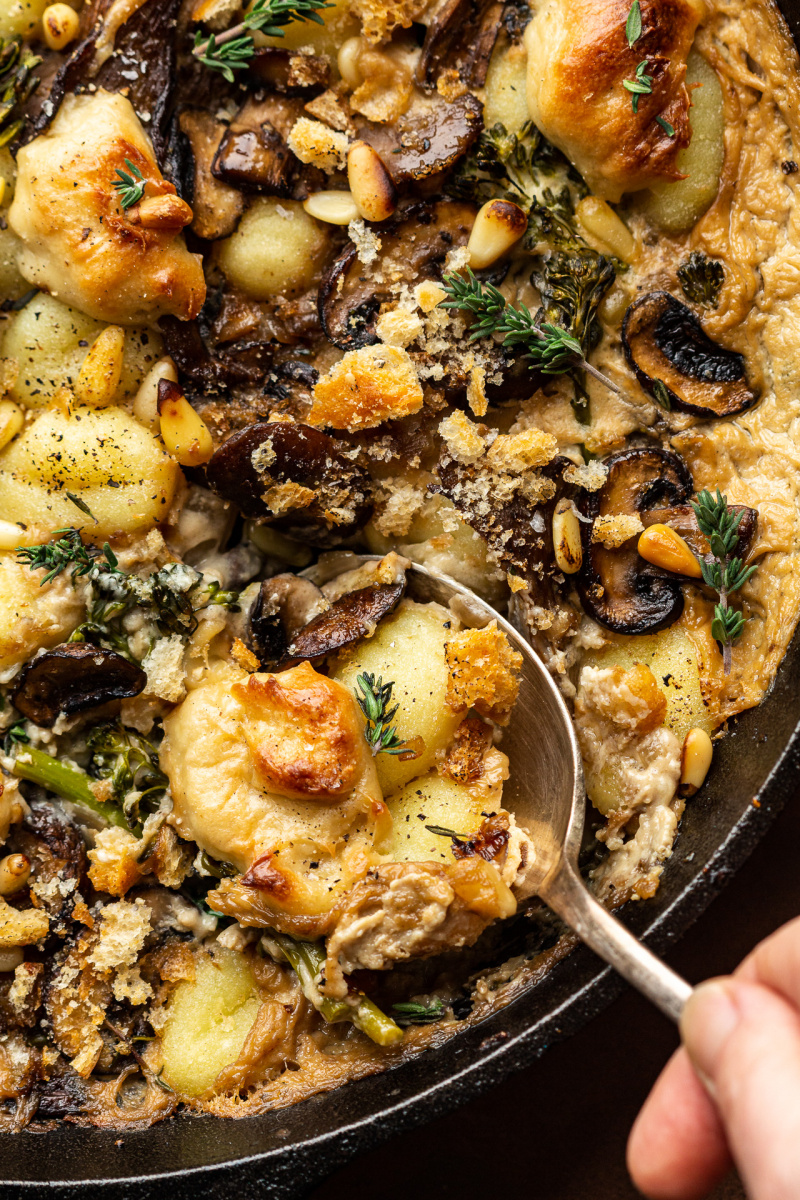 INGREDIENTS OF PAN FRIED MUSHROOMS
2 large shallots
3 garlic cloves, divided
20-30 ml / 4-6 tsp olive oil
300 g / 10½ oz mushrooms (I used chestnut / cremini and a few oyster mushrooms), sliced
BECHAMEL
30 ml / 2 tbsp olive oil
4 tsp all purpose wheat or chickpea flour (for GF version)
450 ml / scant 2 cups almond milk (or any other neutral tasting plant milk)
2 tsp white / shiro miso paste*
2-3 tsp Dijon mustard, more to taste
1 heaped tbsp nutritional yeast
approx. 1 tbsp fresh thyme leaves (or rosemary leaves, chopped)
approx. ¼ tsp black pepper (for the entire dish)
approx. ¾-1 tsp salt flakes (for the entire dish)
20 ml / 1½ tbsp lemon juice, more to taste
REMAINING INGREDIENTS
500 g / 17½ oz shop-bought gnocchi** (gluten-free if needed)
150 g / 5¼ oz tenderstem or regular broccoli, chopped small (optional)
50 g / 1¾ oz vegan cheese, grated or homemade cashew cheese
2 tbsp coarse breadcrumbs (optional)
2 tbsp pine nuts
METHOD OF PAN FRIED MUSHROOMS
Dice shallots and two garlic cloves finely, grate or mince the third garlic clove and set aside for the bechamel.
Heat up a cast iron skillet or a medium size pan on a low-medium heat. Add 2-3 tsp of olive oil and once the oil is warmed up, add shallots and diced garlic. Fry them off gently until fragrant and translucent, stirring often.
Remove shallots and garlic from the skillet. Heat up another 2-3 tsp of oil in the skillet.
Add the sliced mushrooms and fry them off gently, stirring frequently, until they are lightly browned and all the water has cooked out. Season the mushrooms with a generous amount of salt and pepper and some picked thyme leaves. Return shallots and garlic to the pan, mix well and set aside for later.
BECHAMEL
Preheat the oven to 200° C / 390° F.
Heat up 2 tbsp of olive oil in a medium size pot. Once the oil comes to temperature, whisk in flour. Allow the flour to cook off for a bit in the oil stirring with a wire whisk. The flour should bubble very gently and it will turn a little golden after a few seconds, but don't allow it to brown too much. Add in almond milk slowly, whisking the whole time, to create a béchamel sauce.
Season the sauce with a grated garlic clove, miso, mustard, nutritional yeast, thyme leaves, salt, pepper and a good squeeze of lemon to cut through the richness. Taste and adjust the seasoning to your liking.
ASSEMBLY
Transfer the sauce to the skillet you used earlier (if you don't have a skillet you can use a baking dish instead), place raw gnocchi, cooked mushrooms, raw broccoli chopped small in the sauce. Top with grated vegan cheese (or puddles of homemade cashew one like I did), breadcrumbs, pine nuts and some more thyme leaves.
Cover the skillet tightly with a piece of kitchen foil and allow it to bake uninterrupted for 15 minutes.
After 15 minutes, take the foil off and bake for a further 20-25 minutes until everything is beautifully browned. Divide between bowls and enjoy immediately.
NOTES
*If wanting to keep this dish gluten-free, make sure to use a gluten-free miso paste – made with chickpeas, rice, millet, amaranth or quinoa instead of wheat, barley or rye.
NUTRITIONAL INFO FER SERVING
calories  335/17%
sugars    8 g/9%